Fantasma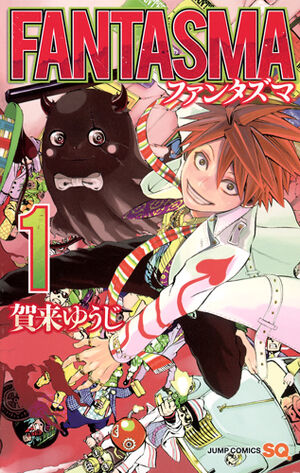 Information
Title:
Fantasma (ファンタズマ, Fantazuma)
Author:
KAKU Yuuji
Original Run:
July 4, 2013 – June 19, 2014
Published by:
Jump SQ (Shueisha), Jump SQ.19 (Shueisha)
Volumes:
3 (11 Chapters)
Genre:
Action / Fantasy / Shonen
Fantasma (ファンタズマ, Fantazuma) is a Japanese manga series written and illustrated by KAKU Yuuji.
Fantasma originally started as oneshot named BAD☆SWING and published in Jump SQ Issue 2012-07. Around year later, the manga was turned into a series and started in Issue 2013-08 of Jump SQ.
In the 9th chapter, released on March 4, 2014 in Issue 04-2014, it was announced that the manga is going to switch to Jump SQ.19, a bi-monthly magazine (released on 19th of every even-numbered month) and will continue in it's 13th Issue released on April 19th, 2014. On the 14th Issue, released on June 19th, the series ended with Chapter 11. The last 3rd volume was released on July 4, 2014.
After the assassination of the powerful Godfather, Don Pazolini, the world has been thrown into chaos. Many mafia try to fill the power vacuum, but there is a rumor that Don Pazolini's son is hidden away somewhere. That son is Nero, an orphan who is raised in a bar with showgirls as his friends. He dreams of one day finding his parents, but he doesn't know who they are. One day, he encounters a haunted baseball bat, who names himself "Pucchi" and refers to himself as the Pazolini family 'fantasma.' Pucchi insists that Nero come with him to become the new Godfather and rebuild the Pazolini mafia family. Nero is reluctant, but quickly realizes he has no choice, since there is a price on his head and his identity is no longer much of a secret...
Manga Guide
Edit
#
Release date
Volume
1
October 4, 2013
Volume 1

List of Chapters:

2
February 4, 2014
Volume 2

List of Chapters:

3
July 4, 2014
Volume 3

List of Chapters: