Welcome to Fantasma Wiki
Manga Guide • Characters • Administrators • Recent Changes • New Photos • New Pages • Help Wiki
Welcome to the Fantasma Wiki, a Wiki dedicated to everything about the manga Fantasma that anyone can edit. Please help us by creating or editing any of our articles!

We currently have 519 edits to 25 articles and 84 images on this wiki.
Introduction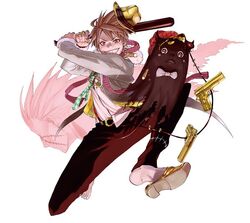 After the assassination of the powerful Godfather, Don Pazolini, the world has been thrown into chaos. Many mafia try to fill the power vacuum, but there is a rumor that Don Pazolini's son is hidden away somewhere. That son is Nero, an orphan who is raised in a bar with showgirls as his friends. He dreams of one day finding his parents, but he doesn't know who they are. One day, he encounters a haunted baseball bat, who names himself "Pucchi" and refers to himself as the Pazolini family 'fantasma.' Pucchi insists that Nero come with him to become the new Godfather and rebuild the Pazolini mafia family. Nero is reluctant, but quickly realizes he has no choice, since there is a price on his head and his identity is no longer much of a secret...

Affiliates
If you would like to become an affiliate of Fantasma Wiki, contact us.